Looking for an alternative to the Display Widgets Plugin in WordPress?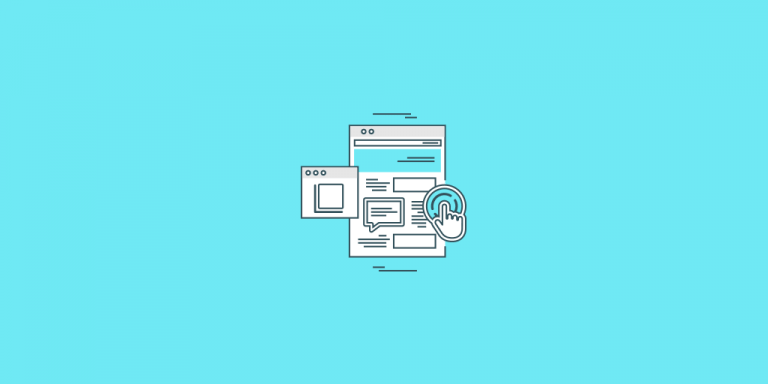 The Display Widgets plugin was recently removed from the official WordPress Plugin Repository because it contained a backdoor to publish spam content to sites using it. While the latest update of the plugin is safe to use, it is highly recommended to replace it. See the best Display Widgets alternatives here.
If you are using Display Widgets version 2.6.x on your site, you need to deactivate or update it to version 2.7 immediately! Once that is done, please read on.
If you just want to know the best alternative to Display Widgets and migrate right away, the most recommended plugin is:
Why switch to a Display Widgets alternative?
It needs to be stressed out that if you are using Display Widgets version 2.7, your site is no longer affected by the security issues. But because it has been removed from the WordPress Plugin Repository, it is highly recommended to replace Display Widgets with another plugin.
The plugin can no longer be downloaded from wordpress.org, and there will be no bug fixes or feature updates added after version 2.7 (which is basically a rollback to an older, secure version).This means that Display Widgets is abandoned.
But don't worry, there are other plugins that offer similar and even more features than Display Widgets, so you can still display different widgets on different posts and pages. The best alternatives are listed below.
If you want to read more about what actually happened to the plugin, we recommend reading this article by Wordfence, and this article by David Law who was one of the first people to reveal the security issues and report them. David Law also created a plugin called Display Widgets SEO Plus with backwards compatibility and many improvements to the original plugin, but it is unfortunately currently not available for download.
Content Aware Sidebars
With an average rating of 4.9/5 stars, and more than 480.000+ downloads, Content Aware Sidebars is the perfect alternative to Display Widgets.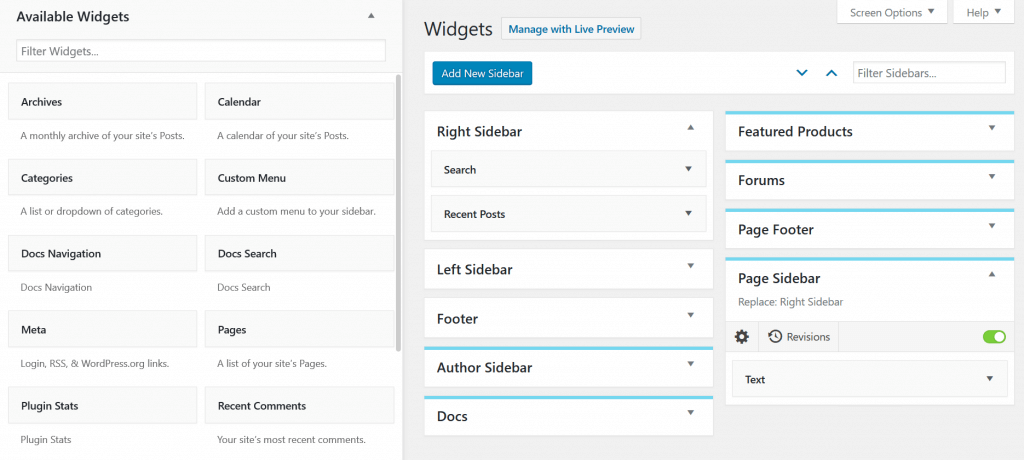 If you have a big site and manage more than just a few widgets, Content Aware Sidebars is ideal for you. Instead of changing the visibility for every single widget, you simply create a custom sidebar. You can then replace any widget area in your theme or insert sidebars as shortcodes. This makes it super easy to manage widget areas and keep track of where each widget is displayed.
When migrating from Display Widgets, Content Aware Sidebars is ideal for big sites or sites in growth.
Top Reasons to choose Content Aware Sidebars
Unlimited Widget Areas
Show or hide sidebars on any post, page, taxonomy, custom post type, or archive page, WooCommerce product, WPML language, BuddyPress section, or bbPress forum
Powerful Display Conditions – No Coding Needed
Create widget areas for all posts by a select author, posts in a specific category, content in different WPML languages, dynamic URLs, and more
Enhanced Widget Manager
Save time, remove the clutter and find the widgets you need, then activate or schedule your widget area once it's ready
Customizable Markup
Change the HTML and CSS classes of your widget areas without writing any code, a must-have when using the optional widget area shortcode
Insert Widget Areas into Theme Hooks [Pro]


Display widget areas in completely new locations in your theme, and add a custom design with responsive widget columns
Jetpack Widget Visibility
With an average rating of 4.1/5 stars and almost 50.000.000 total downloads as of writing, this is one of the most popular WordPress plugins of all time.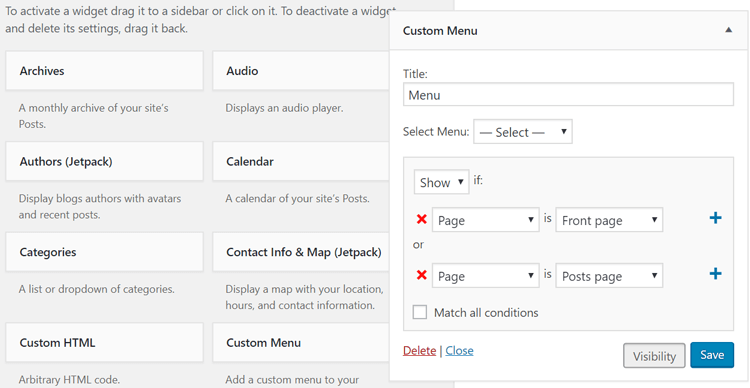 The Jetpack plugin by Automattic comes with a lot of features for your WordPress site, one of them being the ability to show widgets on specific conditions. The options in the Widget Visibility module are very simple and similar to those in the Display Widgets plugin so you can display different widgets on different posts or pages.
Jetpack is a good alternative for users that already have the plugin installed for other reasons.
Top Reasons to choose Jetpack
Basic Widget Visibility
Show or hide widgets on any post, page, category, tag, front page, search results, archive pages, and based on user role or status
Extra Sidebar Widgets
The plugin comes with useful widgets such as Social Media Icons, Facebook Like Box, Twitter Timeline, and Milestone
Many Other Features
With the Jetpack plugin on your site, you can enable many other great free and paid features such as caching, protection, and backup
Widget Options
A solid widget visibility plugin with an average rating of 4.9/5 stars, and it has been downloaded 80.000+ times.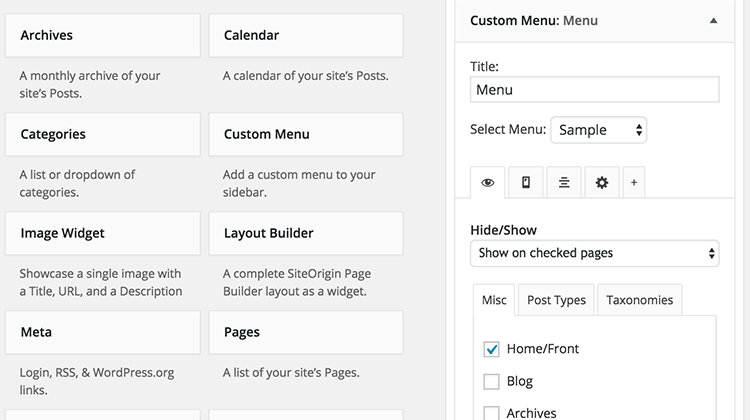 The Widget Options plugin by Phpbits Creative Studio offers widget visibility much like that in Display Widgets. With the ability to easily customize the appearance of any widget on your WordPress site and even insert them as shortcodes, this plugin has a lot more features than the widget visibility module in Jetpack.
If you run a small site with only a few widgets, the Widget Options plugin is a great alternative to Display Widgets.
Top Reasons to choose Widget Options
Basic Widget Visibility
Show or hide widgets on any post, page, custom post type, taxonomy, archives, or even on mobile and tablet devices
Hide Widget Titles
Allows you to easily hide widget titles on the front-end of your site, but keep them on the backend dashboard for labelling
Live Widget Search Filter
Save time, remove the clutter and find the widgets you need in the widget dashboard on your site
Custom IDs and Classes
Add your own IDs and CSS classes to your widgets to give them a different appearance or to control them with JavaScript
Sticky Widgets [Premium]
Make any widget follow the viewport of the screen as the user scrolls down on your site, a great feature to increase interaction and conversion
Help us spread the word about these Display Widgets alternatives, and if you have any other recommendations, please let us know in the comments below! Thank you.