Content Aware Sidebars lets you add page sidebars, post sidebars, or widget areas for custom post types. Skip the hassle of changing the visibility for every single widget, which can be confusing and slow. Now you can easily create different sidebars for different pages. All without writing a single line of code!
Show or hide widgets on any page or post of your choosing with this feature. When editing a page on your WordPress site, you can decide what widget area you want to replace with a completely new one. Simply select any custom sidebar you have previously created in Content Aware Sidebars, or create a new widget area on-the-fly.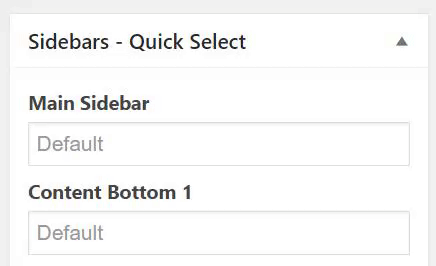 If you create a new one, it will of course not be displayed until you have activated the widget area in one click! It literally only takes a few seconds to add a page sidebar to any modern WordPress theme. And of course this also works for posts or custom post types.
User-friendly Page Sidebar Manager
Instead of manually selecting a sidebar for each page or post when you edit them, Content Aware Sidebars comes with the most user-friendly widget area manager. You get a complete overview of all the sidebars you have created. When editing sidebars, you can easily see and change what pages they should be displayed on.


You can select several pages at once and automatically include new pages when they are created. And if that's not enough, just set this page sidebar to be displayed on all pages by default!
With Content Aware Sidebars you get full control over your widget options and where to display each widget area. In addition to specific post and page sidebars, it also supports different sidebars for the front page, search results, or the 404 page. You can even add category sidebars, WooCommerce sidebars, BuddyPress sidebars, and much more!
Content Aware Sidebars is the best rated widget area plugin for WordPress, and you never have to write any widget logic code to add simple page sidebars.